As Russia invades Ukraine, social media users "fly to quality"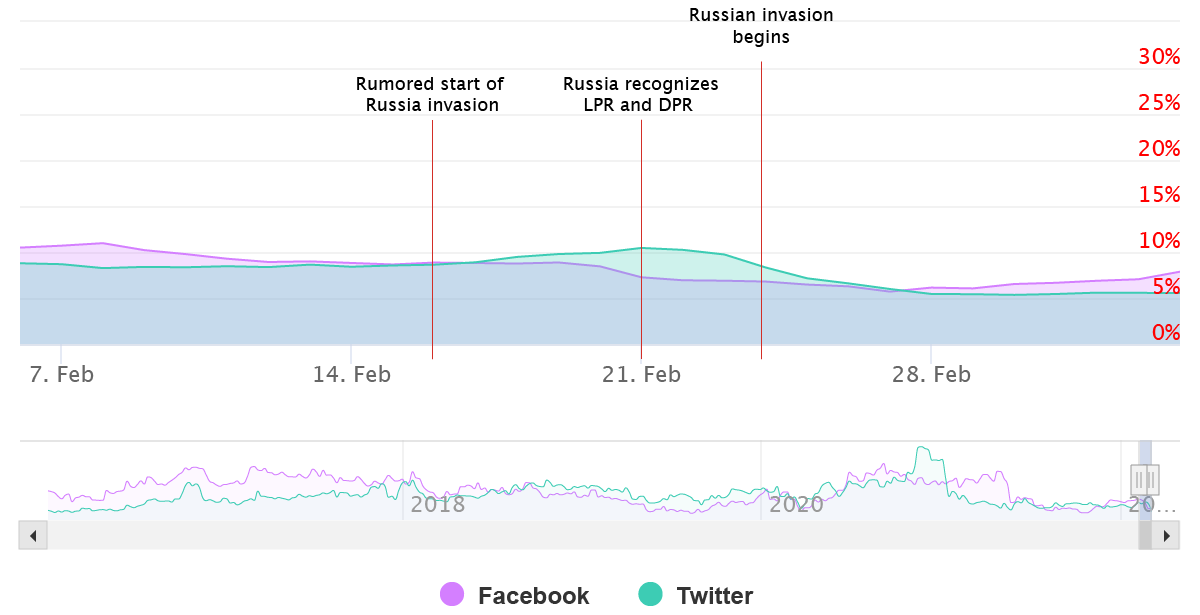 A swift drop late last month in social media engagement with content from "Iffy" sources has prompted CSMR researchers to ask whether Facebook and Twitter users have been experiencing a "flight to news quality," or at least a flight away from less trustworthy sites, during that time—and if so, why.
After the beginning of the COVID-19 pandemic in 2020, our Iffy Quotient platform health metric indicated a flight to quality on Facebook and Twitter. We observed a sudden dip on both platforms in the sharing of popular URLs from sites whose journalistic practices are less trustworthy and are thus deemed "Iffy." This phenomenon was accompanied by a surge in the sharing of popular URLs from mainstream news sites, thereby suggesting a turn to tried-and-true sources of information during times of uncertainty.
Recently over the two-week period from February 14 to February 28, 2022, another flight away from less trustworthy sources seems to have taken place on the two social media platforms. For the week ending February 14, 8.8% of the engagement with the most popular URLs on Facebook was dedicated to content from Iffy sites, and on Twitter this percentage was 8.2%. For the week ending February 28, the numbers dropped to 6.1% and 5.4%, respectively—more than a 30% drop.
Such a dramatic shift is noteworthy enough, but a closer examination reveals further intrigue. While this engagement trended downward in relatively stable fashion on Facebook, Twitter first experienced a rapid growth in engagement with Iffy sites, up to 10.4% for the week ending February 21, followed by an even more rapid decline.
We suggest these trends may be influenced in part by media coverage of the recent invasion of Ukraine by Russian forces. While Iffy sites can be more entertaining to readers, when being informed takes primary importance, readers seem to turn their attention away from Iffy sites, much like what was seen in the spring of 2020. Twitter's Iffy Quotient trajectory in particular loosely maps onto the Russian invasion timeline: the rise in engagement with Iffy site URLs takes place around the same time as the onset of rumors of an invasion taking place on or around February 16, while its descent quickens around February 24, when news was breaking of Russian forces moving into Ukraine.
The Iffy Quotient's daily details page (for example, the daily details for February 14) adds further color. Before the Russian invasion, the most engaged-with URLs from Iffy sites more often revolved around topics that hit closer to the U.S., especially COVID-19 (e.g. mask mandates, vaccines, etc.), Justin Trudeau and the Canadian trucker protests, and the Trump-Russia scandal (e.g. John Durham, Hillary Clinton, etc.). Stories about a possible Russia-Ukraine conflict emerged in the most engaged-with URLs from both trustworthy and Iffy sites beginning around February 21, with greater engagement with trustworthy site content. Once the invasion began on February 24, trustworthy sites' coverage of it received a lot of engagement and those stories tended towards reportage.
On the other hand, the Iffy sites' more limited popular content on the invasion appeared to take a more interpretive approach—for example, analyses that offer highly partisan perspectives of the invasion's impact, especially on the U.S. By February 28 the Iffy sites' most popular stories were less frequently about the Russian invasion and had reverted back to the topics that were trending pre-invasion, while the trustworthy sites' most popular stories were nearly all dedicated to the Russia-Ukraine situation.
The overall drop in social media engagement with Iffy sites over the two-week period in question may have also been influenced by actions taken by both Facebook and Twitter against Russian state media. Both platforms have implemented their own labeling methods to make readers aware of news coming from sources with ties to the Russian government, and Facebook has stopped recommending it globally and blocked it entirely in the EU. This may have deterred social media users from clicking on links that came from sites like RT and Sputnik (both considered to be "Iffy" according to site ratings issued by NewsGuard) and thus reduced the engagement share of Iffy sites. These were not among the most popular Iffy sites, however. For example, on February 20, 2022, prior to the invasion, RT had just one article in the top 10 from Iffy sites; among all articles, it was ranked 704 in terms of engagement on Facebook and 500 on Twitter. Thus, the platform actions taken against those media are not sufficient to explain the reduced user engagement with Iffy sites after the invasion.
Putting it all together, it is clear that social media users had shifting reactions to Iffy site content in the latter half of last month. There are strong indications that they once again experienced a flight from lower news quality and were aided by actions taken by social media platforms. Moreover, there are compelling reasons to believe that this flight was influenced by the onset of the Russia-Ukraine conflict and the media coverage it received. Once fighting began, engagement with Iffy site content on Twitter dropped rapidly, continuing a downward trend that began a few days before the invasion started. Such results might suggest not only that a flight to quality occurs when social media users are looking for accurate information, but also that readers may be treating the "hot takes" and highly partisan perspectives more as entertainment than as information sources, and entertainment is less captivating in times of uncertainty.


The Iffy Quotient for Facebook and Twitter and the daily details page, all updated daily, are available at our Iffy Quotient page.


Written by James Park, Sagar Kumar, and Paul Resnick