Racism, election overtake COVID-19 as "iffy" news on popular social sites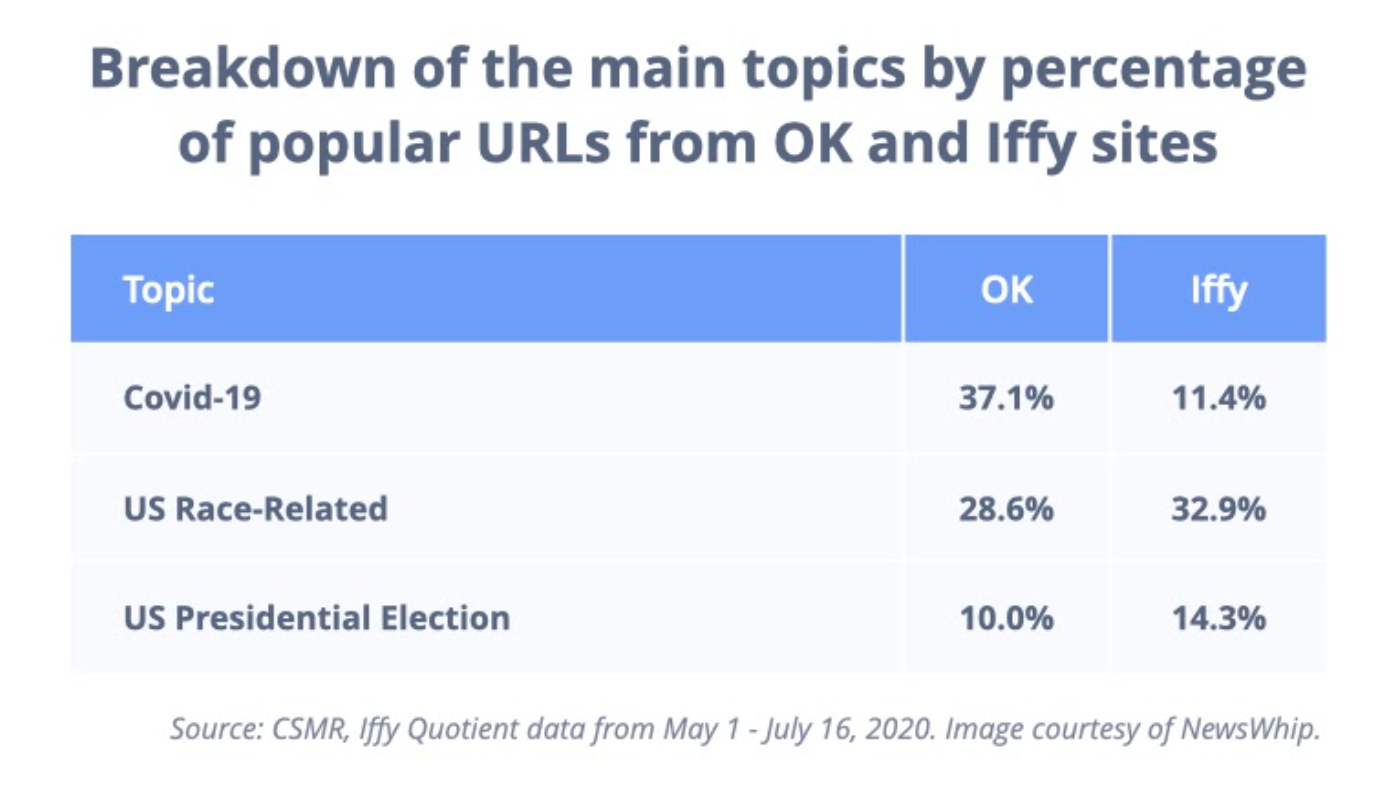 Amidst the pandemic, one might expect that the most popular news URLs from Iffy websites shared on Facebook and Twitter would frequently be about COVID-19. Upon closer inspection, though, this isn't exactly the case.
CSMR has published Part 1 of a two-part blog post describing some of the trending news topics on social media during the transition from spring to the summer months. This is the latest entry in a series of guest posts for NewsWhip, one of our partners for the Iffy Quotient platform health metric.
Using the Iffy Quotient's daily details pages, we analyzed a sample of the most popular URLs on both Facebook and Twitter from Iffy sites and OK sites from May 1 to July 16, 2020. Much to our surprise, we found that not only was COVID-19 not the main topic of popular content from Iffy sites, it represented a relatively smaller fraction of popular Iffy content compared to other timely topics.
Almost three times as many popular Iffy site stories appeared to be about race-related issues (32.9%) than were about COVID-19 (11.4%), and U.S. presidential election-themed stories (14.3%) also outpaced pandemic ones. On the other hand, the most popular stories from OK sites were related to COVID-19 (37.1%), followed by stories about race-related issues (28.6%) and the U.S. presidential election (10%).
These three topics were the most popular and represented topics from both OK and Iffy websites, when measured by their popularity on Facebook and Twitter. But Iffy sites experienced the most success among social media users with their race-related stories, while the OK sites' coverage of COVID-19 was their most popular, though their own race-related stories also garnered considerable attention. Iffy sites' COVID-19 stories were far less frequently popular.
A fuller discussion of our findings can be found in our NewsWhip blog post. The Iffy Quotient for Facebook and Twitter and the daily details page, all updated daily, are available at our Iffy Quotient page.
Read the full blog post written by James Park and Paul Resnick
Read the Michigan News press release