Need to settle old scores shows up in iffy social media content during pandemic, election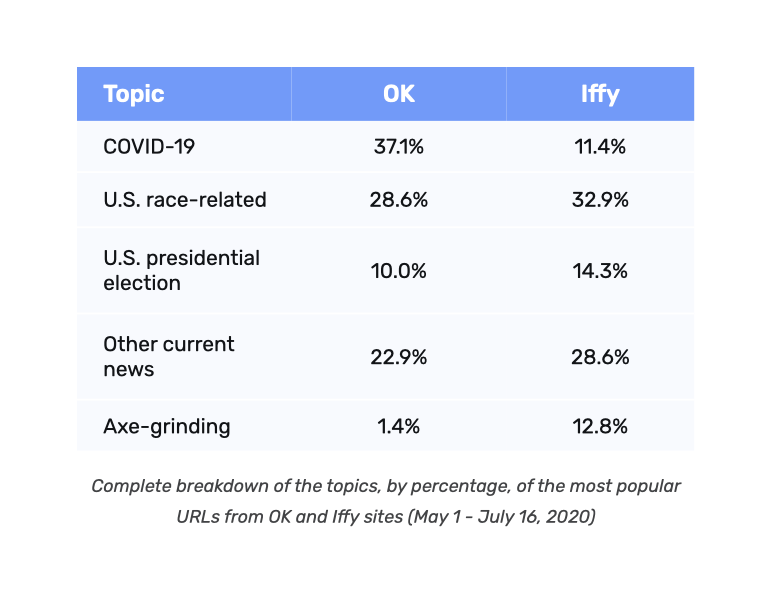 If you are among the Facebook and Twitter users who thought posts you read during the heart of the pandemic and election featured stories that seemed conspiracy laden, politically one-sided, and just flat-out antagonistic, you might have been onto something.
CSMR has published Part 2 of a two-part blog post describing some of the trending news topics on social media during the transition from spring to the summer months in 2020. This is another entry in a series of guest posts for NewsWhip, one of our partners for the Iffy Quotient platform health metric.
In Part 1 of this story we revealed that COVID-19, race relations in the U.S., and the U.S. presidential election were the three most frequent topics of popular news items from both trustworthy (what we call "OK") and Iffy websites, when measured by their popularity on Facebook and Twitter. These three topics comprised over 75% of OK sites' popular news stories and a little under 60% of Iffy sites', and the data showed some surprising differences.
Beyond the three main news topics, about 23% of the OK sites' stories covered miscellaneous current news, compared to over 28% of Iffy sites' stories.
But the real surprise comes from the other remaining popular stories. Almost 13% from Iffy sites were what we call "axe-grinding" stories that tried to settle old scores and revisit old grievances that appeared to their authors to have been mishandled previously—typically by the opposing ideological party. These stories reflected a deeply politically conservative stance and often used words like "scam" and "witch hunt." In contrast, OK sites had a small amount of axe-grinding content, a little over 1%, generally involving retrospective critiques (in the form of opinion pieces) of President Trump, his administration, or his political allies.
During the period of our analysis there were more popular axe-grinding stories from Iffy sites than there were COVID-19 stories from the same sites, ~13% vs. ~11%.
A fuller discussion of our findings can be found in our NewsWhip blog post. The Iffy Quotient for Facebook and Twitter and the daily details page, all updated daily, are available at our Iffy Quotient page.
Read the full blog post written by James Park and Paul Resnick
Read the Michigan News press release